Alexandria, VA
Crane & Rigging Rental Services
Crane & Rigging Rentals in Alexandria, VA
 Alexandra, VA located along the picturesque Potomac River, is a city that has both historic significance and beauty. The city boasts a thriving cultural scene, boasting numerous museums, art galleries, and theaters, including the Torpedo Factory Art Center. Alexandra is not just known for its history, but it's a dynamic and diverse community. Its prime location is close to Washington D.C. making it an ideal residential choice for professionals seeking a combination of historical charm and urban convenience. With accessible public transportation options, Alexandra offers a distinctive and sought-after living experience within the Washington D.C. metropolitan area.
Premium Crane Rental Services in Alexandria, VA
Here at Pro Crane Rentals Inc, we offer a wide variety of crane and rigging equipment available on stand by for your upcoming job. All cranes and rigging systems are regularly maintenance which makes them reliable. our inventory ranges from 15 ton cranes to the 180 ton Liebherr, as well as the notable Spyder crane. Not entirely sure which size and type of crane is needed for your project in Alexandria, VA? Don't worry, Pro crane Rentals has your back! Prior to any crane rental we offer a consultation with one of our experts to further assist you on choosing the perfect crane for the job at hand. Our services can even help assist your Alexandria job site with road closings, as well as local traffic control components. Our mission here at Pro Crane Rentals is to ensure that our Alexandria, VA clients always have the right equipment for the job, and that the work environment is completely safe.
Alexandria, VA Crane Rentals
Every crane in our catalogue available to rent, is serviced to professional maintenance. A key factor that makes our Alexandria, VA crane rental company stand out from the competition, is our willingness to assist you every step of the way with your project, rather than serving as a one stop crane shop. After consulting with one of our crane professionals, we can assist you on what type of crane is needed for the job at hand. Our honesty and integrity as a crane rental business is what has led us to succeed as a company today. As with any lifting job around Alexandria, VA, safety is always key. We take pride in having our professionals on site to guide you and your team in the safest direction to complete the project efficiently.
Rigging Equipment Rentals in Alexandria, VA
Here at Pro Crane Rentals we take pride in our rigging services. Upon contacting us, we will discuss the requirements and specifics of the rigging job and offer our professional advice before a rental option is chosen. For over 25 years we have handled rigging jobs on Alexandria, VA projects. With this experience in the rigging industry we have found the best ways to approach any situation thrown at us, always handling the rigging job efficiently and in a timely manner. With our cutting-edge equipment and our experience in planning and executing countless rigging jobs, you can count on Pro Crane Rentals to handle any rigging job for your Alexandria, VA project.
Give us a call today! Upon our first meeting we can get an idea of what will be needed for your specific job type, and help you understand what will be required to efficiently complete the job.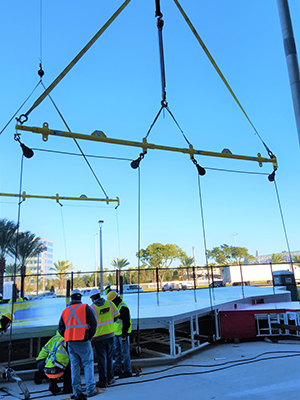 Alexandria, VA Heavy Equipment Rentals
Heavy Equipment is often required to complete big jobs. Most jobs involving a crane, will often need other heavy equipment to efficiently operate. Here at Pro crane rentals we offer a wide variety of heavy equipment for your jobs needs beyond cranes and rigging systems. Some jobs may require unique crane types given the specific circumstances. Luckily our team has specialized in heavy Equipment for years and can assist you on what will be needed in all for your job. Pro Crane Rentals Incorporated has offered the Alexandria, VA area with a wide variety of heavy equipment rentals for years and more to come.
Alexandria, VA Reliable Crane & Rigging Rentals
 Pro Crane Rentals is a trusted name in the industry, known for providing reliable rigging and crane rental services that meet the diverse needs of every client. With years of experience, we have established a reputation for excellence in delivering safe and efficient lifting solutions. Our state-of-the-art cranes ensure that projects of all sizes and complexities are executed flawlessly.
At Pro Crane Rentals, safety is a top priority. We adhere to stringent safety standards and employ advanced equipment to mitigate risks and ensure the well-being of our team and clients. Whether it's heavy machinery relocation, construction, or industrial projects, Pro Crane Rentals offers a comprehensive range of services to support the success of any endeavor. With our dedication to excellence, Pro Crane Rentals has become a go-to choice for clients in Alexandra, VA seeking top-tier rigging and crane rental services.