Baltimore, MD
Crane & Rigging Rental Services
Crane & Rigging Rentals in Baltimore, MD
Here at Pro Crane Rentals Inc, we offer a wide variety of crane and rigging equipment available on stand by for your upcoming job. All cranes and rigging systems are regularly maintenance which makes them reliable. our inventory ranges from 15 ton cranes to the 180 ton Liebherr, as well as the notable Spyder crane. Not entirely sure which size and type of crane is needed for your project in Baltimore, MD? Don't worry, Pro crane Rentals has your back! Prior to any crane rental we offer a consultation with one of our experts to further assist you on choosing the perfect crane for the job at hand. Our services can even help assist your Baltimore, MD job site with road closings, as well as local traffic control components. Our mission here at Pro Crane Rentals is to ensure that our Baltimore, MD clients always have the right equipment for the job, and that the work environment is completely safe.
The most populous city in the state of Maryland with an estimated 2019 population of over 593,000 residents, Baltimore stands as the largest independent city in the United Sates. With a history that goes far back to the establishment of the Port of Baltimore in 1706 by English colonists, the city of Baltimore had become a major center for industry and manufacture by the 19th century. In modern times, however, Baltimore had since shifted to a service economy following a long decline in the industrial economy. Today, Baltimore is home to the headquarters for a number of major companies and organizations including the notable Johns Hopkins Hospital and Johns Hopkins University. Baltimore is also the home to a few federal government agencies including the Social Security Administration and the Centers for Medicare & Medicaid Services.
Baltimore, MD Crane Rentals
Every crane in our catalogue available to rent, is serviced to professional maintenance. A key factor that makes our Baltimore, MD crane rental company stand out from the competition, is our willingness to assist you every step of the way with your project, rather than serving as a one stop crane shop. After consulting with one of our crane professionals, we can assist you on what type of crane is needed for the job at hand. Our honesty and integrity as a crane rental business is what has led us to succeed as a company today. As with any lifting job around Baltimore, safety is always key. We take pride in having our professionals on site to guide you and your team in the safest direction to complete the project efficiently.
Rigging Equipment Rentals in Baltimore, MD
Here at Pro Crane Rentals we take pride in our rigging services. Upon contacting us, we will discuss the requirements and specifics of the rigging job and offer our professional advice before a rental option is chosen. For over 25 years we have handled rigging jobs in projects around Baltimore, MD. With this experience in the rigging industry we have found the best ways to approach any situation thrown at us, always handling the rigging job efficiently and in a timely manner. With our cutting-edge equipment and our experience in planning and executing countless rigging jobs, you can count on Pro Crane Rentals to handle any rigging job for your Baltimore, MD project.
Give us a call today! Upon our first meeting we can get an idea of what will be needed for your specific job type, and help you understand what will be required to efficiently complete the job.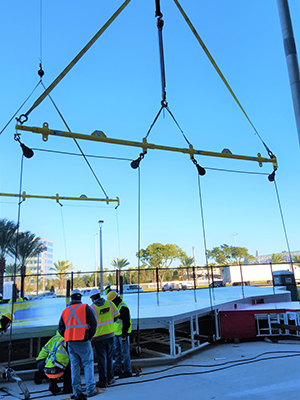 Baltimore, MD Heavy Equipment Rentals
Heavy Equipment is often required to complete big jobs. Most jobs involving a crane, will often need other heavy equipment to efficiently operate. Here at Pro crane rentals we offer a wide variety of heavy equipment for your jobs needs beyond cranes and rigging systems. Some jobs in Baltimore, MD may require unique crane types given the specific circumstances. Luckily our team has specialized in heavy Equipment for years and can assist you on what will be needed in all for your job. Pro Crane Rentals Incorporated has offered the Baltimore, MD area with a wide variety of heavy equipment rentals for years and more to come.