Lakeland, FL
Crane & Rigging Rental Services
Lakeland, FL Crane And Rigging Rentals
Here at Pro crane Rentals Incorporated, we offer a wide variety of crane and rigging equipment available on stand by for your upcoming job. All cranes and rigging systems are regularly maintenance which makes them reliable. our crane inventory ranges from 15 tons all the way to the 180 ton Liebherr and the notorious Spyder crane. unfamiliar with what type of crane is needed for your job? Don't worry, Pro crane rentals has your back. Prior to any crane rental we offer a consultation with one of our professionals to further assist you on choosing the perfect crane for the job at hand. Our services can even help assist your job site with road closings, as well as local traffic control components. Our mission here at Pro crane Rentals is to ensure our clients have the right equipment for the job and ensure the environment is safe. Our Rigging Services include a wide range of premium heavy duty equipment to get the job done, no matter the size. No job is to big for Pro Crane rentals. We strive to take strategy and professionalism into every rigging job.
Lakeland, FL Crane Rentals
Every crane in our catalogue available to rent, is serviced to professional maintenance. A key factor that makes Pro Crane Rentals stand far alone from its competitors, is our service to assist your job rather than be a one stop shop. After consulting with one of our Professionals, we can assist you on what type of crane is needed for the job at hand. Our honesty and integrity to the crane rental business is what has lead us to our success as a company today. During Crane jobs, safety is key. We take pride in having our professionals on site to guide you and your team in the safest direction to complete the job efficiently.
Lakeland, FL Rigging Rentals
Here at Pro Crane Rentals we are excelled in Professional Rigging Services. Upon Contact we will discuss your rigging jobs specifications and further consult our advice before a rental option is chosen. Over the many years we have operated our rigging systems on clients jobs, we have found the best ways to approach any situation thrown our direction. Our Professionals take pride in completing rigging jobs efficiently and in a timely manner. With our assortment of tools and equipment, our intellect in planning, we are confident in our abilities to do any job. Our employees are certified riggers. 
Give us a call today! upon our first meeting we can get an idea of what will be needed for your specific job type, and help you understand what will be required to efficiently complete the job. Take the first step, and call now!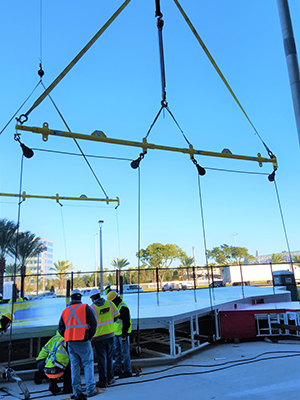 Lakeland, FL Heavy Equipment Rentals
Heavy Equipment is often required to complete big jobs. Most jobs involving a crane, will often need other heavy equipment to efficiently operate. Here at Pro crane rentals we offer a wide variety of heavy equipment for your jobs needs beyond cranes and rigging systems. Some jobs may require unique crane types given the specific circumstances. Luckily our team has specialized in heavy Equipment for years and can assist you on what will be needed in all for your job. Pro Crane Rentals Incorporated has offered the greater Lakeland area with a wide variety of heavy equipment rentals for years and more to come. Lakeland Florida is a city in Florida east of Tampa. The city has many lakes that include Lake Mirror, which has promenade and neoclassical Hollis Garden. The Polk Museum of Art's collection ranges all the way from pre-Columbian artifacts to  paintings. Lakeland Florida is home to over a hundred thousand people. Lakeland Florida as also known to be home of Florida southern college.